Pittsboro First Sunday
 October 2nd, 12-4pm
The Quiltmaker Café is excited to be offering another Pay-What-You-Can meal and invite all community members to visit our booth at First Sunday!  There is no cost for a meal and drinks will also be provided.  Donations will be accepted to help the café move into its permanent home but are not required!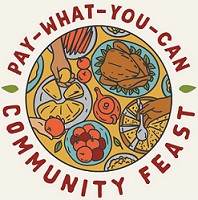 Pay-What-You-Can Community Feast
 October 16th, 5pm
Join us on Sunday, October 16, at 5:00 pm for a Pay-What-You-Can Community Feast! Gather at The Plant under a fall sunset with friends new and old from the Chatham community. You'll enjoy amazing food, swap stories, and be a part of building beloved community. Plus, you'll get to practice the pay-what-you-can model — the core feature of The Quiltmaker Café, a new nonprofit, fast-casual restaurant coming to Pittsboro in Spring 2023.
Additional 2022 Events
October 8: Moncure/Haywood Community Appriciation Day, 12-5pm
October 9: Shakori Hills Music Festival, 11-4pm 
October 29: Pittsboro Street Fair, Downtown, 10-4pm
Look for the BRIGHT PURPLE TENT!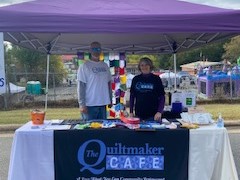 Interview from First Sunday
Updates
We are an IRS tax exempt organization as of January 2021, and you can DONATE HERE!
The Cafe is an offical member of both the Chatham County Chamber of Commerce and the Pittsboro Business Association.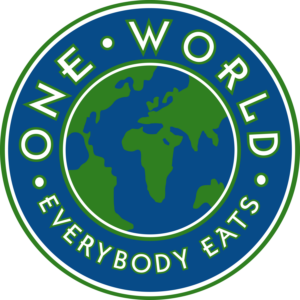 The Quiltmaker Café is an official member of the national organization, One World Everybody Eats
About One World Everybody Eats
In 2003, One World Everybody Eats began as a simple offering in a small café in Salt Lake City, UT. Owner Denise Cerreta noticed her patrons were struggling to make ends meet, and in what she describes as her 'field of dreams' experience, she decided to begin letting them pay what they could for their meals. She realized that one in six Americans—50 million people—are food insecure, meaning families and individuals are accessing emergency food pantries, even scavenging or stealing, to meet their nutrition needs. To address this issue, OWEE supports a model of pay-what-you-can Community Cafés that helps communities alleviate hunger at the local level. Since its inception, cafés around the world have implemented the OWEE business model, including Panera Bread and the Jon Bon Jovi Soul Foundation for which Cerreta provided café opening guidance. Dozens of cafés are currently in development. Collectively, OWEE cafés have served almost 2 million meals, 30 percent of which are served to people of less means. Under OWEE's business platform, each café is committed to serving appealing, nutritious, locally sourced meals with dignity to everyone while ultimately, changing communities and their perspective on hunger. For more information on OWEE visit www.oneworldeverybodyeats.org.
Pittsboro First Sundays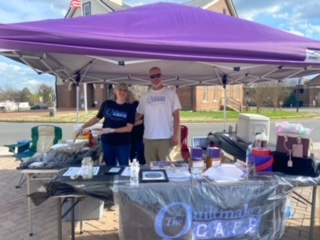 Served our first Pay-What-You-Can Meal During a VERY WINDY day in March!
Hope you were able to come by and enjoy a bowl of Dave's Chili and Root Cellar Cafe cornbread!
April:  The Quiltmaker Café served our second Pay-What-You-Can meal of chicken salad sliders and rosted veggie salads along with a delicious Kitchen-Sink brownie, loaded with goodies!  If you couldn't make it, be sure to mark your calendar for the May 1st event!
May: The Quiltmaker Café served a Pay-What-You-Can meal of chicken salad sliders and rosted veggie salads along with a pasta salad and fresh fruit!
Pittsboro Fall Festival
Busy day at the Pittsboro Fall Festival on October 30th!  Huge THANKS to The Root Cellar for donating delicious pumpkin brownies.  They were a big hit!  And thanks to all for stopping by to chat or sign our Community Quilt. 
We look forward to spending lots more time with our community.
First Raffle Winner, Rhonda Dowdy, will receive a $25 Subway Gift Card.  Congrats Rhonda!

PepperFest
Several of the Café Founders and Board Members attended the Abundance Foundation's sponsored PepperFest Festival on September 19th at The Plant in Pittsboro, NC (220 Lorax Lane)
Follow us on Facebook and Instagram @quiltmakercafe