Saturday, April 2nd, 2023
The Quiltmaker Café will be partnering with Carolina Cravings and Huckleberry Trail Farm for an Easter Egg Hunt event.  All donations for this event will help support The Café! Join us for a fun day of egg hunting, music, hay rides, and games!
We look forward to seeing you there!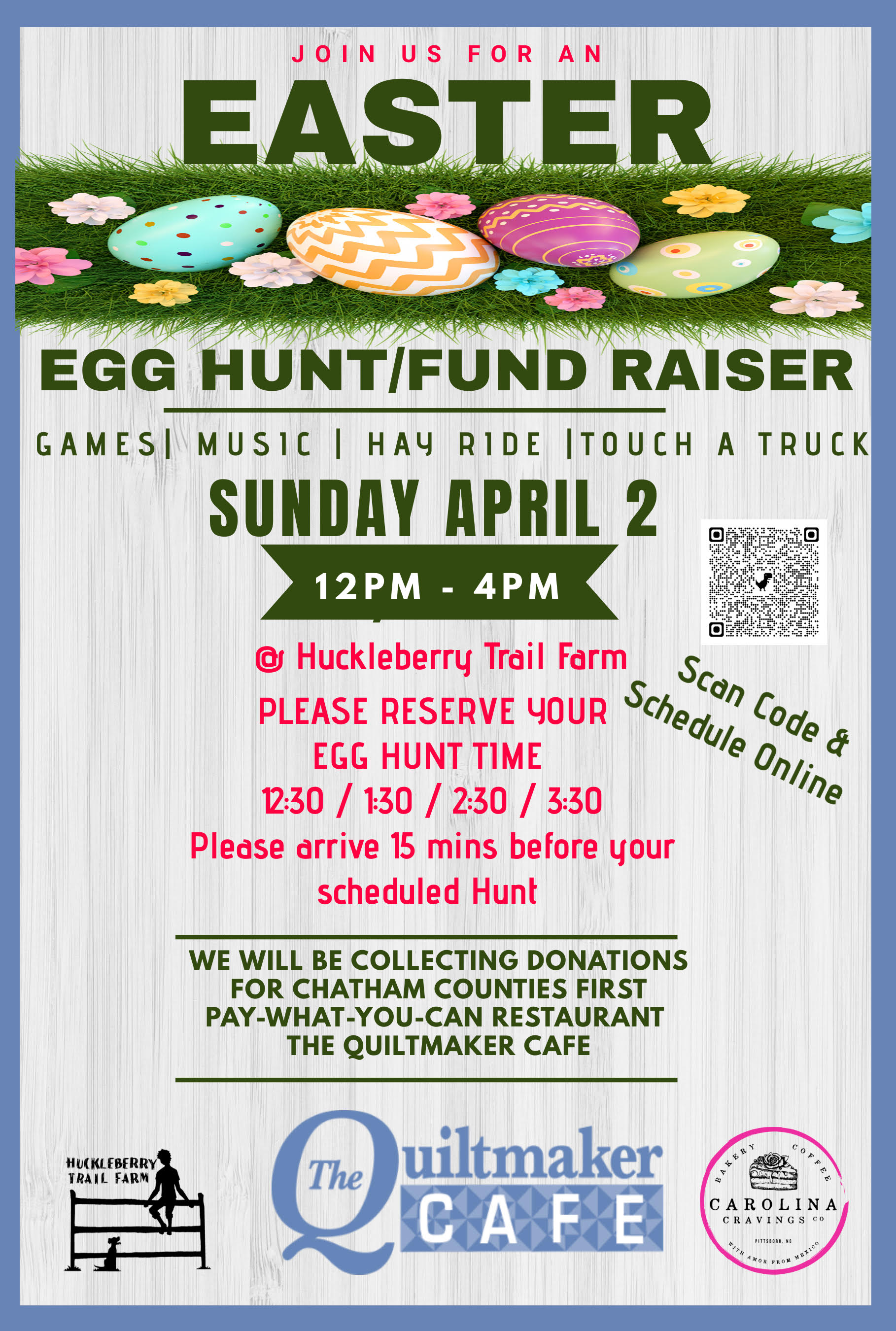 Chatham News + Record
January 4, 2023
The Cafe's Co-Founder and Executive Director, Jennie Knowlton, was listed #13 in
The Chatham News+Record
The People Who Made Chatham Exceptional!
Jennie Knowlton established the nonprofit Quiltmaker Café in February 2021 with her husband David and daughter Elizabeth and a simple vision: to open a permanent fast-casual restaurant in Pittsboro using a pay-what-you-can model, in which those eating set their own price for the meal. Donations can take different forms, including monetary, produce or donations of time through volunteering.
Knowlton, who grew up experiencing food insecurity, remembers the associated stigma. A core feature of the restaurant is dignity, she said, and being able to give agency to patrons to dine out and enjoy a meal with others.
"So there'll be no separation between who might be paying, who might be volunteering, who might be paying under," she said. "And just building that community also with using volunteers, rather than employees, [so] that everyone is also serving each other, once again, no matter from what type of means they might be coming from.
Chatham News + Record
PITTSBORO ­— For those looking for a hot meal but without Thanksgiving plans, or if you're simply seeking company and conversation, Pittsboro's Quiltmaker Café is hosting a Thanksgiving event to provide a space for it all — regardless of ability to pay.
This year marks the first time the nonprofit Quiltmaker Café is holding a "Pay-What-You-Can" meal for Thanksgiving; it's scheduled for 1 to 3 p.m. on Thanksgiving day — Thursday, Nov. 24 — at Postal Fish Company in Pittsboro.
For café co-founder and executive director Jennie Knowlton, it's a day she's looking forward to for a number of reasons.
CH@T with the Chatham News + Record
Jennie Knowlton, founder and executive director of The Quiltmaker Café, began her first nonprofit journey early last year, along with her husband, David, and daughter, Elizabeth.
Having experienced food insecurity herself during different periods in her life, she says she can personally relate to the dignity lost as choices become fewer and fewer. With The Quiltmaker Cafe — set to open soon in Pittsboro — Knowlton is excited to combine her passion for reducing waste with her desire to address growing food insecurity by providing a space where all are welcome to a meal and community. This week, we spoke with Knowlton about her plans for the cafe.
Read more of The Quiltmaker Cafe's Q&A with Chatham News + Record from February 23, 2022 here
Interview from First Sunday, April 2022
Hosted our second event on Thanksgiving Day with The Travelling Café and The Postal Fish Company.
A huge THANK YOU to all of our sponsors and volunteers!
We celebrated our first Pay-What-You-Can Community Dinner on a beautiful evening in October.  Over 200 community members sat down with local businesses and farmers to enjoy an amazing dinner, hear fabulous music and make new friends.  If you weren't able to make it this time, stay tuned for updates on our next!
Pittsboro First Sundays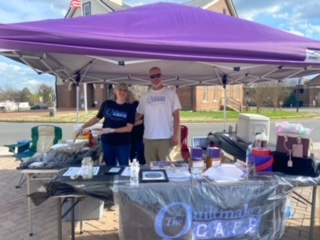 Served our first Pay-What-You-Can Meal During a VERY WINDY day in March!
Hope you were able to come by and enjoy a bowl of Dave's Chili and Root Cellar Cafe cornbread!
April:  The Quiltmaker Café served our second Pay-What-You-Can meal of chicken salad sliders and rosted veggie salads along with a delicious Kitchen-Sink brownie, loaded with goodies!  If you couldn't make it, be sure to mark your calendar for the May 1st event!
May: The Quiltmaker Café served a Pay-What-You-Can meal of chicken salad sliders and rosted veggie salads along with a pasta salad and fresh fruit!
Follow us on Facebook and Instagram @quiltmakercafe