Location
We are planning to open in the Pittsboro area of Chatham County.
Community
Stitching a Pattern of Community
and Good Food
The Quiltmaker Cafe team realizes that our opening is taking longer than originally expected.  The majority of the community's amazing donations are being saved for the goal of opening in a permanent space in downtown Pittsboro.  Due to the lack of available restaurant space in our community, we are working hard to be ready to move very quickly once a space that meets the needs of The Quiltmaker Cafe, and this community, becomes available.  We thank you for your continued support and understanding!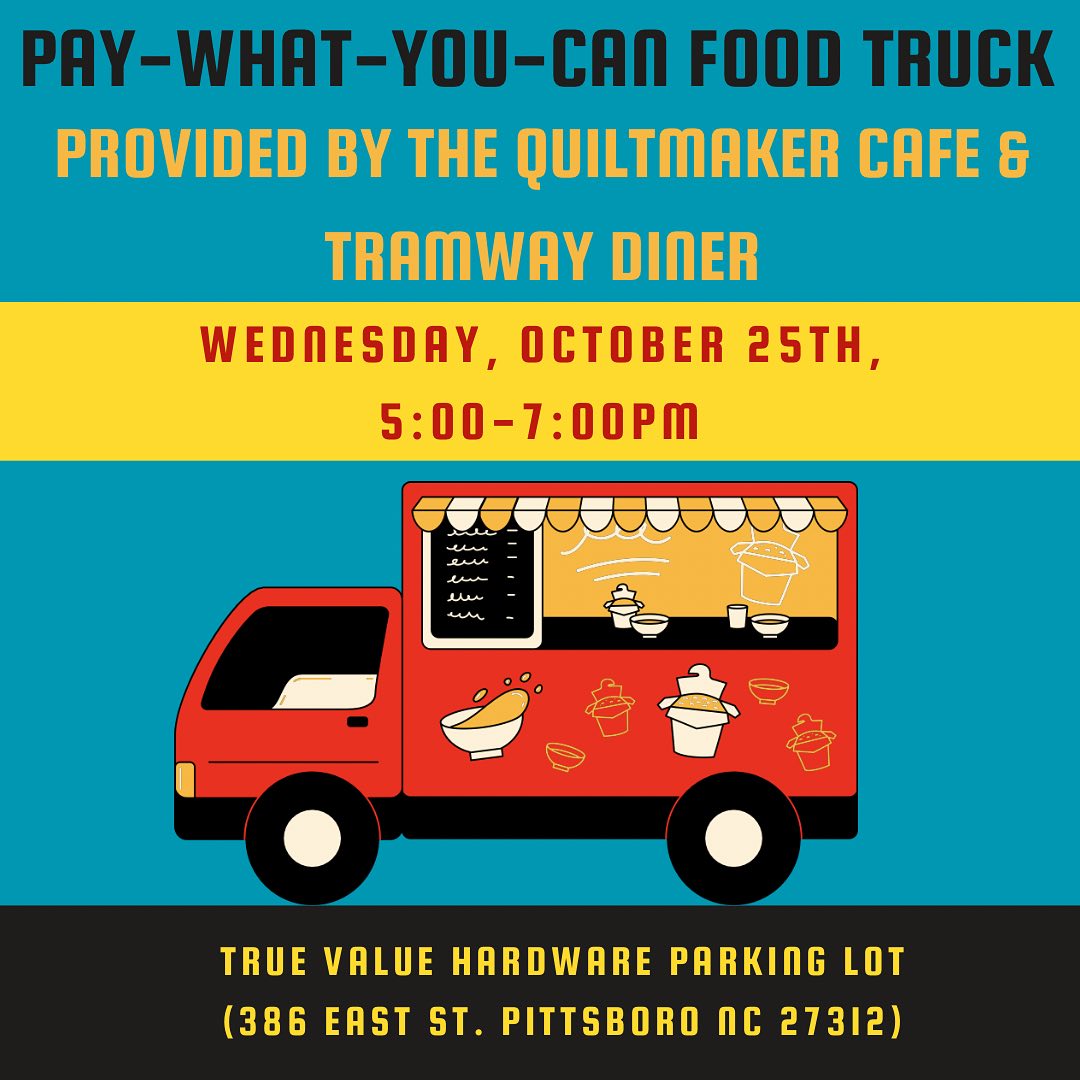 Food Truck partnership with Tramway Diner
While we continue our search for the perfect home of The Quiltmaker Cafe, we have partnered with the Tramway Diner Food Truck to offer a monthly Pay-What-You-Can meal. 
Upcoming Dates:
Wednesday, October 25th, 5-7pm

Monday, November 20th, 5-7pm

Monday, December 11th, 5-7pm
Join us and your fellow community members in the True Value Hardware store parking lot, 386 East St. Pittsboro, for a Pay-What-You-Can dinner.  This October's menu includes fried chicken, hamburger steak with onions and gravy, or baked cheese ravioli, with mac & cheese, green beans, mashed potatoes, or slaw.  Banana pudding, carrot cake and chocolate/caramel cake will be served for dessert.  There will be plenty of seating available, so bring a friend!
How Do "Free Will" Donations Work?
Each guest chooses how they would like to participate with the Cafe.  Some options of participation can include: 
1. A Monetary Donation.  Guests choose the donation amount that is right for them.  
2. Donate Produce.  Eggs, herbs, vegetables from your own garden.
3. Volunteer.  Volunteers offer a chance to foster community by working side-by-side with staff and other community members. Every volunteer will be offered a meal, of their choice, at the end of each shift.
Follow us on Facebook and Instagram @quiltmakercafe
To learn more about us and to watch our progress as we connect with local farmers, volunteers and community members